Manage services¶
You can manage certain service configurations for your developers directly from the Management Portal.
Permissions
Only users with ROLE_MANAGER permissions can perform these actions.
Tip
You can also manage many of these properties and others directly from the agent.config file or from the terminal.
To manage your service configurations¶
Log in to your Lightrun account.
Click Settings located at the bottom left corner of your Management Portal.
Select Service configuration under Lightrun's logs collector in the settings menu.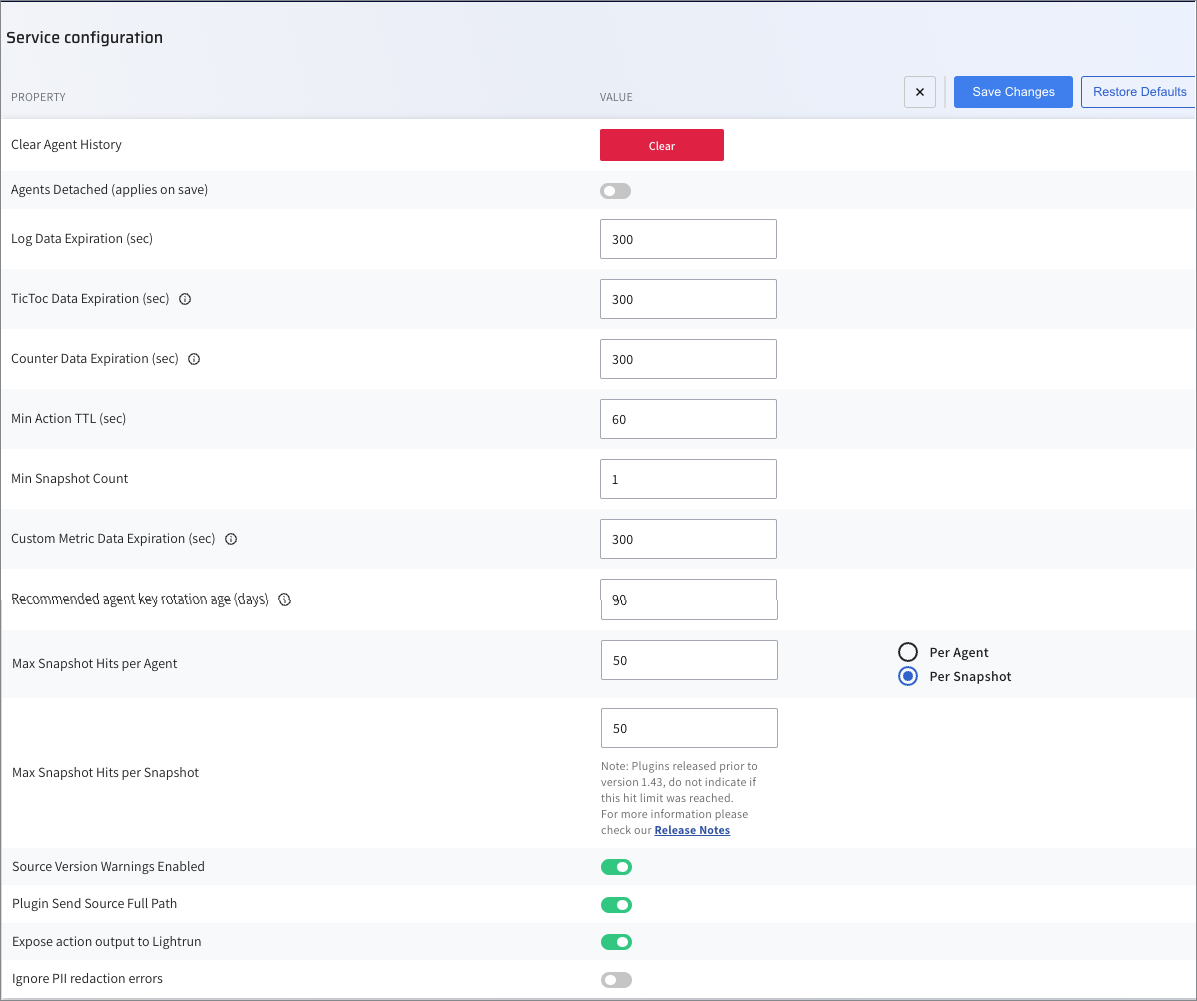 The following table describes the services and actions you can perform from this page:
| Option | Type/unit | Default | Description |
| --- | --- | --- | --- |
| Clear Exceptions History | Button | | Clears all exceptions from the cache |
| Clear Agent History | Button | | Clears all agent activity from the cache. |
| Agents Detached (applies on save) | Toggle | | Shuts all agents down when enabled. |
| Agent Expiration [sec] | Seconds | 30 | This is the time it takes for the server to delete inactive agents |
| Log Data Expiration [sec] | Seconds | 10000 | Log data older than this is deleted |
| Snapshot Expiration [sec] | Seconds | 60 | Snapshot data older than this is deleted |
| TicToc Data Expiration [sec] | Seconds | 300 | TicToc data older than this is deleted |
| Counter Data Expiration [sec] | Seconds | 300 | Counter data older than this is deleted |
| Min Action TTL [sec] | Seconds | 60 | Minimum time you can set for action TTL |
| Max Snapshot Count | Hits | 50 | Maximum hit count value you can set for snapshots |
| Min Snapshot Count | Hits | 1 | Minimum hit count value you can set for snapshots. |
| Custom Metric Data Expiration [sec] | Seconds | 300 | |
| Exceptions Data Expiration [sec] | Seconds | 2592000 | |
| Daily Exceptions Limit | | 1000 | |
---
Last update:
May 18, 2022